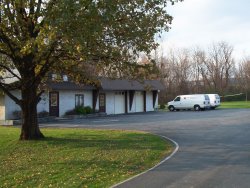 Valley Instrument Company has been serving the industrial control community for over 35 years, with extensive experience in pharmaceutical and biotechnology utility systems and processes. All of the equipment we manufacture is made, serviced, and sold out of our Exton, PA plant. Other than some accessory products, we manufacture all of our own equipment.
Valley Instrument Company manufactures control systems for new or existing process and utility systems for pharmaceutical and biotechnology companies. We design and manufacture fermentation control systems, CIP control systems, USP and WFI control systems, Biowaste control systems, batching control, etc. Our control systems range in size from One Liter to 10,000 Liter vessels, and can be controlled by the customers' computer with optional backup PID local control or complete stand alone systems.
We offer total system support from design, documentation, testing, installation assistance, programming, calibration/validation, startup and training.
Process Systems
Fermentation
Cell Culture
Product Batching
Buffer Preparation Systems
Media Preparation Systems
Clean in Place (CIP) Systems
Steam in Place (SIP) Systems
Weighing Systems
Utility Systems
USP 23 Water Systems
WFI Systems
DI Water Systems
Waste Neutralization Systems
Chemical Bio Kill Systems
Temperature Bio Kill Systems
Down Stream Processing
Ultra-Filtration Systems
Micro-Filtration Systems
Chromatography Systems
Design and Engineering
Control System and Instrumentation Design
Control System and Instrumentation Design Review
Generation of P & IDs
Generation of Instrument Lists
Generation of Loop Diagrams
Generation of Mechanical Drawings
Generation of Electrical Schematics
Control System Functional Requirement Specifications
Generation of Control System Sequence of Operations
Control and Instrumentation Supply
Design, Fabricate, and Test Control Panels
Supply Instruments, Sensors, and Probes
PLC Programming
Installation and Test
UL Panel Fabrication
Startup, Calibration and Validation
System Startup
NIST Traceable Calibration: Shop and Field
IQ/OQ Documentation Review
IQ/OQ Execution
Documentation
Customer Training and Service
Service and Support Contracts